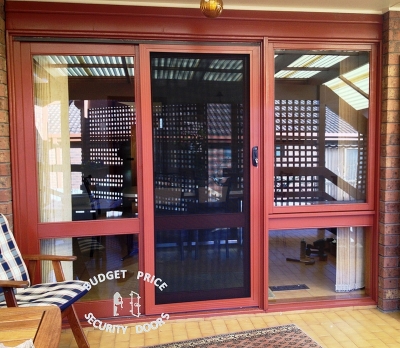 Security Doors Rockbank
At Budget Price Security Doors we believe there are many benefits to securing your home, beyond the peace of mind and safety. Our products are designed for strength and durability but, they also made to increase the value of your property and improve your quality of life.
Our security doors will secure and add value to any property, no matter its design. We install and repair many types of security doors, including aluminium and stainless steel panel doors in different designs, as well as cast grille and X-view doors.
Security Screens Rockbank
As homeowners, you always keep your doors closed to keep out intruders. But there are times of the year, like in the hot summer months, when you could actually save on energy by simply keeping those windows and doors open. Our security screens are designed to let in cooler, outside air so you can avoid using your air conditioners, which saves energy.
Made from an aluminium frame and marine grade stainless steel wire, our security screens can handle whatever the Rockbank weather has to throw at it. They maintain their looks throughout the different seasons so your home's entrances and windows remain secure while letting in fresh outside air at the same time.
Security Windows Rockbank
When done right, security windows can add a pleasing aesthetic touch to your property. They will also accentuate your property's other hidden features, which adds to its curb appeal. Your property's market value will also appreciate significantly.
Our security windows are designed with the tastes of the homeowners of Rockbank in mind. They are made to be burglar-proof first and foremost, but our designers also make an effort to the windows are easy on the eye.
The Budget Price Security Doors Advantage
Security doors, screens, and windows are not made equal. At least in terms of their strength. At Budget Price we have advantage of an outstanding reputation borne out of 40 years' experience, 200,000 satisfied clients, and a 10 year warranty on our installations.
We install front aluminium and stainless steel doors, side lights, sliding security doors and panels, security windows, screens, and other home security products. We serve all areas within and around Rockbank.
Ready To Secure Your Home?