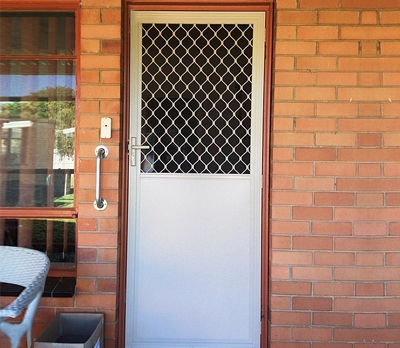 Security Doors Truganina
As a business person you wear a lot of different hats and likely have a lot on your plate. To concentrate on activities that actually grow your business, you probably wish you didn't have to worry about keeping your business or home safe from break-ins.
The last thing you want to be doing is spending money you would rather be investing in the business on replacing computers and important tools stolen during a burglary. This is where Budget Security Doors comes in. We have a line of security doors, security screens, and security windows designed to keep intruders out of your property.
If you are in Truganina and you are looking to secure the entrances to your home or place of business, we have got you covered. Our expansive selection of security windows and doors include cast grille doors, steel grille inserts, diamond grille doors, and security pet doors.
If you can't quite decide which security windows or doors from our catalog of security door products are right for your specific needs, our experts are here to guide you. They will come to your house or place of business, do a site inspection to evaluate your needs, and work with you until your home or business place is secure.
Our advantage is nearly 40 years of experience designing high quality security doors and windows for home and business owners in Truganina, Williams Landing, Ravenhall, and Laverton North. That experience has taught us important lessons, including what works and what doesn't. We have served hundreds of customers who recommend us and have themselves come back to buy from us on numerous times.
Secure entrances and windows reassure your customers and protects your assets, which grows your business and gives you peace of mind. Give us a call today and let us know what your needs are.